Find the perfect gift in our Museum Shop – fine Scandinavian textiles, toys, glass and ceramics, accessories, unique jewelry, Dala horses, Swedish calendars, a large variety of books, favorite imported foods and candy, handmade items by Scandinavian artisans, and much more. We have everything you need to create the traditional Swedish holiday feeling, as well as great gifts for every occasion.
Our merchandise changes with the seasons, and every year from October to December we open our popular Holiday Market and fill the shop with Swedish tomtar, ornaments, lights, and treats. Take a video tour of our holiday shop here.
Some popular brands and products in the shop:
Marabou

and Fazer chocolates, Läkerol pastilles

Ekelund

and Almedahls textiles
Toys by Brio, Viking Toys, and Plus-Plus

Carl Larsson

, Elsa Beskow and Astrid Lindgren books and products

Åsa Tomtefabrik

wool tomtar/gnomes

Leksands

knäcke/crisp bread, Önos saft/drink mixes, and Abba sill/herring

Sagaform

drinkware and kitchen products

Dansk Smykkekunst Copenhagen

jewelry
Some of the Museum's publications are available for purchase online through Diane Publishing. Visit their online store here.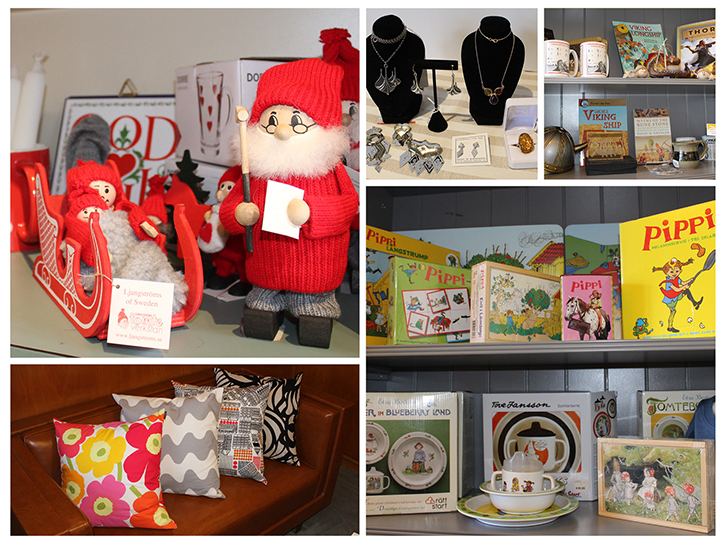 For questions about any item you see pictured, or to make a request or purchase over the phone, please call us at 215.389.1776 ext. 2, or e-mail us at shop@americanswedish.org
Visit our Museum Shop during our regular hours and whenever there is a museum event. Free admission to the shop.
1900 Pattison Avenue (in FDR Park in South Philadelphia)
Tuesday-Friday 10-4
Saturday and Sunday 12-4