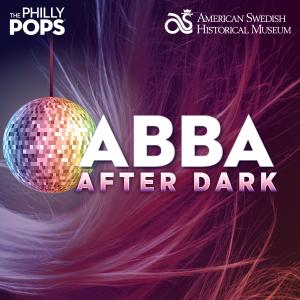 Join us for this fun-filled evening of live music, singing, and dancing queens! The Philly POPS in partnership with the American Swedish Historical Museum (ASHM) is hosting an ABBA After Dark sing-along. You can listen in or sing along as The Philly POPS plays a variety of ABBA's iconic hits on the museum terrace. Come dressed in your best ABBA attire for a chance to win tickets to the POPS Rocks ABBA: Mamma Mia! And more… concert at the Kimmel Cultural Campus November 17, 20, and 21.
The music will start at 7:00 pm but come early to enjoy the ASHM galleries as well as appetizers and beverages for sale. ASHM will open at 5:00 pm for tickets holders and will be serving nibbles, such as Swedish meatballs and Philly pretzels.
Admission for the event is $10 per person and includes museum admission. This event is SOLD OUT.
Sing-along repertoire (subject to change):
Take a Chance On Me

Gimme! Gimme! Gimme!

Chiquitita

Mamma Mia

Waterloo

Money, Money, Money

Dancing Queen

The Winner Takes It All
About POPS Rocks ABBA: Mamma Mia! and more...
The Philly POPS puts on its dancing shoes for POPS Rocks ABBA: Mamma Mia! and more… November 17, 20, and 21 at the Kimmel Cultural Campus
Music Director and Principal Conductor David Charles Abell and the full Philly POPS orchestra will take audiences through ABBA's career, highlighting tunes that soared to the top of the charts in the '70s and '80s. Favorites include: "Dancing Queen," "Gimme! Gimme! Gimme!," and "Chiquitita." This performance marks Abell's first performance back with the POPS in Verizon Hall since 2019.
"ABBA's music is pure joy—which is something I think we all could use about now," said David Charles Abell. "Their music is a perfect example of pop, and the full POPS orchestra will bring plenty of fun and excitement to these arrangements and orchestrations. And, as a Scandinavian group, Rajaton adds an extra layer of authenticity."
Joining the POPS is Finnish vocal group Rajaton (Rah-ya-tahn). Last seen with the POPS in 2014, Rajaton performs worldwide and has released 16 different albums in their over-20-year career. They currently have one double platinum, three platinum and eight gold records in Finland, with worldwide sales of over 400,000.
Tickets start at $35 and are available at www.phillypops.org/abba.
About The Philly POPS
The Philly POPS, the largest standalone pops orchestra in the United States, delights audiences with the inspired performance of American popular music. The POPS celebrates this distinctive musical heritage through an expanding repertoire of innovative concert performances and a robust set of educational and engagement initiatives.
As the official POPS orchestra of Pennsylvania and the City of Philadelphia's partner in civic celebration, The Philly POPS serves a consistently growing audience of over 450,000 annually. Music Director and Principal Conductor David Charles Abell and the 65-piece Philly POPS orchestra keep listeners tapping their toes to an impressive repertoire of songs from American traditional music up through to today's chart-toppers.