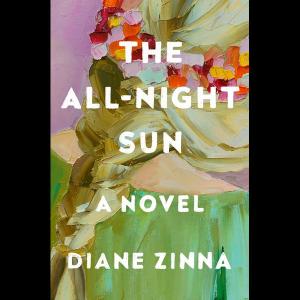 January is the perfect time to curl up with a good book, a hot drink, and friends for an interesting conversation. ASHM is excited to host a book discussion on The All-Night Sun: A Novel by Diane Zinna. The event will feature the author herself who will share her inspiration for the story and provide deeper insights on the characters and themes. Please bring your questions and prepare to participate in this one of a kind conversation. The program is free for Museum members and $5 for nonmembers. Registration is required to receive the Zoom link. To support the Museum the novel can be purchased through the ASHM Gift Shop for $24 and includes free shipping. If you have questions, please reach out to lburnham@americanswedish.org.
The All-Night Sun: A Novel by Diane Zinna
Lauren Cress teaches writing at a small college outside of Washington, DC. In the classroom, she is poised, smart, and kind, well-liked by her students and colleagues. But in her personal life, Lauren is troubled and isolated, still grappling with the sudden death of her parents ten years earlier. She seems to exist at a remove from everyone around her until a new student joins her class: charming, magnetic Siri, who appears to be everything Lauren wishes she could be. They fall headlong into an all-consuming friendship that makes Lauren feel as though she is reclaiming her lost adolescence.
When Siri invites her on a trip home to Sweden for the summer, Lauren impulsively accepts, intrigued by how Siri describes it: green, fresh, and new, everything just thawing out. But once there, Lauren finds herself drawn to Siri's enigmatic, brooding brother, Magnus. Siri is resentful, and Lauren starts to see a new side of her friend: selfish, reckless, self-destructive, even cruel. On their last night together, Lauren accompanies Siri and her friends on a seaside camping trip to celebrate Midsommar's Eve, a night when no one sleeps, boundaries blur, and under the light of the unsetting sun, things take a dark turn.
Ultimately, Lauren must acknowledge the truth of what happened with Siri and come to terms with her own tragic past in this gorgeously written, deeply felt debut about the transformative relationships that often come to us when things feel darkest.
About the Author:
Diane Zinna is originally from Long Island, New York. She received her MFA from the University of Florida and had been teaching creative writing for over ten years. She was formerly the executive co-director at AWP, the Association of Writers & Writing Programs, which hosts the largest literary conference in North America each year. In 2014, Diane created the Writer to Writer Mentorship Program, helping to match more than six hundred writers over twelve seasons. The All-Night Sun, her first novel, was longlisted for The Center for Fiction's First Novel Prize. Diane lives in Fairfax, Virginia, with her husband and daughter. Learn more at dianezinna.com.