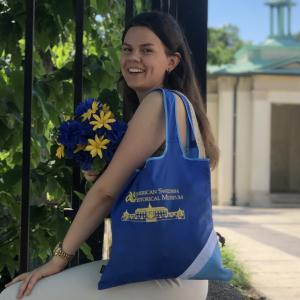 Registration has closed. We have a limited number of Midsommar-To-Go Bags left for sale at the museum. 
Although we cannot gather as a group at the Museum this year, ASHM can still help bring the spirit of Midsommar to your home! ASHM Midsommar-To-Go Bags contain all kinds of things to make your Swedish Midsommar special. Each re-usable bag will include select food and candy items from our Gift Shop, classic summer Swedish recipes, craft ideas for kids, and coupons for anything else you may need from the ASHM Shop and Sweetish candy store in Lancaster to make your holiday complete. Food in the bags includes Greve Cheese, Leksand Crackers, spicy mustard, Estrella Chips and Dip, Singolla raspberry Cookies and Lots of Candy! The bag and its contents have a retail value of $75! Traditional favorites like herring are available in the gift shop if you really want to celebrate like a Swede!
The Midsommar-To-Go Bags are $50 for ASHM members, $55 for non-members. 
We realize that the food is only one part of what makes Midsommar special. The Museum will still hoist the most important symbol of the event, the Maypole! Stop by the Museum on Friday June 19th to pick up your event bag  and hop out of the car with your family to take picture with this beautifully decorated symbol of summer.
Feel free to reach out with any event questions at 215-389-1776 or info@americanswedish.org. For our friends and members near Lancaster, consider picking up at Sweetish Candy Store—just be sure to arrange it with us in advance!
We will also post a look back at ASHM Midsommar events from years past with a photography montage on Facebook to reminisce with friends on this special day.
The celebrations continue with a free virtual concert on Saturday June 20th! Check out our Facebook page for a live streaming event with Swedish folk musician Sofia Talvik. Sofia's soft blend of Nordic melodies and folk roots come together for the perfect soundtrack to you Midsommar celebration.