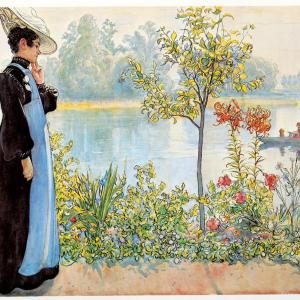 The American Swedish Historical Museum is honored to debut the artistic work of Karin Larsson for the first time in America!
While weaving rugs for the Larsson family's home, a weaver happened to make a mistake urging Karin Larsson to remark "Continue… let the hand be seen".
Immersed in the world of the Swedish countryside, Karin Larsson's work in the textile arts, furniture construction, and interior design reflect her artistic training, curiosity, innovation, and openness to the emerging trends facing life in the late 1800s. Karin's contributions to the prevailing art movements like Art Nouveau, the Arts and Crafts style, and regional folk techniques, are distinguished by her boldness, simplicity, and taste for abstraction. Karin embraced new methods while embroidering, weaving, knitting, crocheting, making lace, sewing clothes, and producing tapestries for the home she shared with her children and husband, the celebrated painter Carl Larsson.  
The Larsson family lived and worked during an exciting and ever-changing time period. Their work was affected by the dynamic shift in political, social, economic, and cultural discourse. Karin Larsson: Let the Hand Be Seen showcases Karin's work through her experience as an artist, wife, and mother. The exhibition will feature reproductions of Karin's most significant pieces including furniture, dresses, curtains, pillows, and other hand-made designs that accented the Larsson family home. The objects are woven throughout the exhibition against a backdrop of Carl Larsson's most beloved paintings reproduced as large-scale tapestries. Though Karin's body of work was known only to her family and a few friends during her lifetime, today her impact on the fiber arts and interior design remains an important part of Sweden's contributions to women's history and the wider world of art.
This exhibition is on loan from the Carl Larsson-gården in Sweden and will be touring across the U.S. with ASHM being the only East Coast location. Be the first to see her diverse body of work at the opening of the exhibition with ASHM Curator, Christopher Malone. The exhibition opening is free to the public with light refreshments served. Please RSVP to attend.