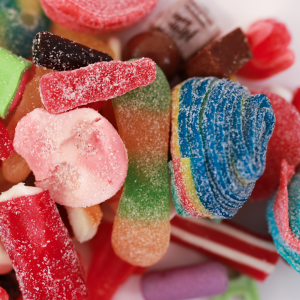 Are you ready to take your Easter basket to the next level? Sweetish candy store owner Tyler Graybeal will introduce participants to new and unique Swedish treats in this guided tasting program. If you have never tried candy from Sweden, this is your opportunity to experience a whole new world of natural flavors! The candy kit includes 1 pound of Sweet and Sour Pick-n-Mix, 1/2 pound of wrapped Pick-n-Mix, 1/4 pound of Salty Licorice, and 2 candy bars or boxed candy. The tasting will take place over Zoom with Tyler Graybeal and ASHM staff will also be on hand to explain unique Swedish traditions like Easter witches, feather branches, and paper mâché eggs. Registration is required.
Event costs $20 members and $25 nonmembers, registration includes 1 candy kit and additional candy kits can be ordered. Candy kits for the event can be picked up from either the American Swedish Historical Museum or the Sweetish Candy Store 356 N Queen St. Lancaster, PA  in the first weeks of March. Up to four candy kits can be mailed for a flat fee of $15, registration deadline for mail orders is March 1st.
Follow link below to register and order candy kits.