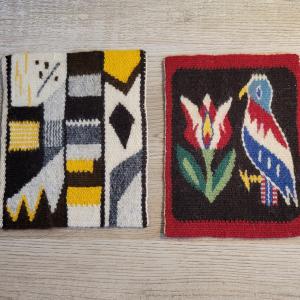 The American Swedish Historical Museum is excited to host a new hemslöjd workshop: Introduction to Flemish  Weaving presented by Elisabeth Jönsson Brown!
In this five-session workshop, students will learn traditional Flemish weaving techniques used throughout Sweden. Participants will make a 6.5"x5" sampler to practice every technique used in this style. The workshop meets at the Museum each Tuesday for five weeks (January 10th through February 7th) from 10:00 am - 1:00 pm.
The fee is $100 for members and $125 for non-members and includes the material kit. A $40 refundable deposit for use of the loom will be added to the fee upon registration and returned at the end of the class with the loom. Students will be required to choose from the two examples pictured, either the Bird Design or Abstract Design when registering. Space is extremely limited so register early. We look forward to weaving with you!