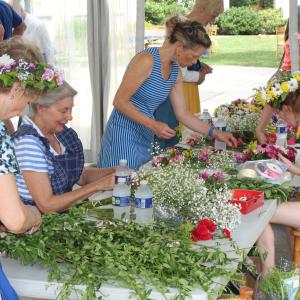 Midsommar is one of Sweden's most important holidays and a day to rejoice in the coming of summer at a time when daylight is at its longest. Join us at the American Swedish Historical Museum to celebrate this unique Swedish tradition at Misommarfest on Saturday, June 25, 2022.
Midsommarfest is a day of fun for the entire family with traditional Swedish food, live music provided by the Last Chance duo, and activities for all ages. You can purchase flower crowns, Swedish foods, and refreshments. Check out our Swedish used book sale and Mormor's Attic Shop, filled with second-hand treasures. Tickets are $5 per person 12 and up and include Museum admission. You can buy tickets at the door or register in advance by clicking below.
*Please note: Free ASHM parking for the event will be at the NovaCare/Naval Hospital Lot across Pattison Avenue. Please enter the event via the Museum's Pattison Avenue gate.