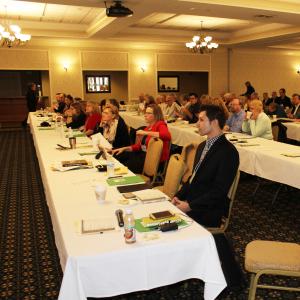 Please join us for the 18th annual New Sweden History Conference. With speakers coming as far as from California, the scheduled talks this year are as exciting as ever. Set to take place at the German Society of Pennsylvania (central Philadelphia) on Nov 10, this conference will be a day filled with fascinating lectures, networking opportunities and tasty German food in a historic setting. 
This year's theme - Sojourning Strangers - focuses on interactions between Swedes and Germans between 1638 and 1783. Although divided by language and congregations, Swedes and Germans were both ethnic minorities within the predominantly English-speaking colonies of Delaware, Maryland, New Jersey, New York, and Pennsylvania. 
As William Penn's arrival in 1682 sparked the illusion of Pennsylvania as an English-speaking, Quaker haven, the stories of Swedes and German-speakers in this area reveal the diversity of experiences in the colonial Mid-Atlantic region. Speakers this year include Dr. Linda Rugg, professor of Scandinavian Literature at Berkeley University; Dr. A. Gregg Roeber, professor emeritus of early modern history at Penn State; Lisa Minardi, PhD candidate in American Civilization at the University of Delaware; Rev. Dr. Kim-Eric Williams, curator and archivist at the Mt. Airy Lutheran Seminary Archives, and Trevor Brandt, curator at the American Swedish Historical Museum. 
Whether you are interested in history, art history, antiques and material culture, this conference will provide professional and enthusiast historians the opportunity to hear these great scholars in the field and the stories of colorful figures such as Henry Muhlenberg, Carl Wrangel, and Gustavus Hesselius. 
To learn more about this years speakers, their lectures, or to register for the conference, download the PDF file below. Registration includes breakfast and lunch: $60 per person ($35 for students and teachers). 
Extended registration deadline: Friday, November 9th.
Location: German Society of Pennsylvania, 611 Spring Garden St, Philadelphia, PA 19123