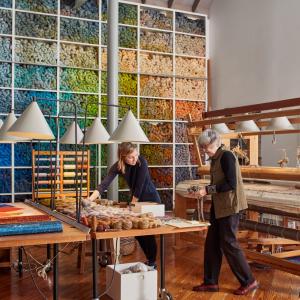 Thoughts of fall invoke brightly colored leaves, crisp air, and getting cozy with warm textiles. What better place to experience all that fall has to offer than a trip through New England in September to visit Scandinavian textile artists?
On this once-in-a-lifetime travel opportunity, we will first visit world-renowned Swedish weaver Helena Hernmarck's studio in Connecticut where she will discuss her textile experience and artistic inspirations. Following the studio visit, we will travel to the local gallery Browngrotta Arts to view their showcase of textiles and unique sculptural, ceramic, and mixed media works.
The following day will be spent exploring Old Sturbridge Village in Massachusetts, including a private tour of their textile exhibition and collections followed by a hands-on yarn sewing activity. The New England experience continues the next day as we will explore the quinticental 18th and 19th-century Historic Deerfield Village. 
For the culmination of the trip, we will be visiting the Vävstuga Weaving School to meet with founder and textile expert Becky Ashenden. Not only will we get to learn from Becky, but Swedish weaving expert Monica Hallén will also be at the school and will give a joint presentation. Monica Hallén has unparalleled expertise in the history and weaving of rag rugs. She is a designer, weaver, and embroiderer, and has co-authored a number of very popular books. She teaches at Sätergläntan, the internationally known institute for craft and handwork in Dalarna, Sweden, and we are thrilled to be able to see her during her visit to the U.S.!
In addition to these amazing textile experiences, the itinerary also includes a visit to the Yankee Candle flagship store in Deerfield, Massachusetts and the Big E Festival! For those unfamiliar with this must-see New England event, the Big E, formerly known as the Eastern States Exposition, is New England's Great State Fair and is the largest agricultural event on the eastern seaboard featuring a farmer's market, demonstrations, exhibitions, food, entertainment, and butter sculptures!
Hotel accommodations will be at the boutique Hotel Zero Degrees in Norwalk Connecticut and the spacious yet cozy Homewood Suites in Hadley Massachusetts.  Let ASHM help you relax by taking care of all the details for this unforgettable getaway. The trip includes luxurious minibus transportation, accommodation, two breakfasts, four lunches, two dinners, and all admission fees.
The trip has limited availability and a short registration deadline so book your spot early. Registration is $1750 per person for double-occupancy hotel rooms (add $450 for a private room.) To register please call or click the link below by August 30th. If you have any questions please contact Lauren Burnham at 215-389-1776 x106 or lburnham@americanswedish.org. Registration is closed but if you have interest in the trip please call for availability information. 
(Click on the above-highlighted locations to learn more!)
Full Itinerary
Wednesday, September 20th
Depart Philadelphia*

Travel to Helena Hernmarck's Studio in Ridgefield, Connecticut

Visit the Browngrotta Arts Gallery

Stay at Hotel Zero Degrees in Norwalk, Connecticut
Thursday, September 21st
Travel to Sturbridge, Massachusetts

Private Tour of the textile exhibition at

Old Sturbridge Village

 

Yarn Sewing Workshop and time to explore Old Sturbridge Village

Stay at Homewood Suites in Hadley, Massachusetts
Friday, September 22nd
Explore Historic Deerfield

Visit Vävstuga Weaving School and hear a joint presentation by founder Becky Ashenden and Swedish weaving expert Monica Hallén.

Shop at Yankee Candle Flagship Store in Deerfield, Massachusetts

Spend the evening at the Big E! New England's Great State Fair.

Return to Homewood Suites in Hadley, Massachusetts.
Saturday, September 23rd
Travel Back to Philadelphia*

(*Vehicles may not be left in the FDR/ASHM parking lot overnight. Participants must arrange to be dropped off and picked up from ASHM. A timed itnerary will be  provided upon booking.)