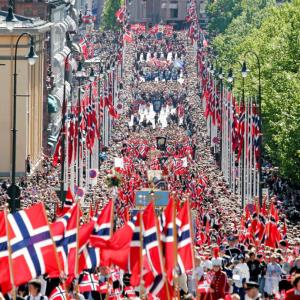 Please note that there was a typo regarding the date and time of this event in one of our e-letters. The correct date and time is Friday, May 17, 11 am - 2 pm.
In celebration of Norwegian Constitution Day, syttende mai, ASHM will host a Lunch and Learn event featuring a guided tour, catered lunch, and an author talk. In 1524 the Kalmar Union broke apart. Over the next 300 years Scandinavia became a battlefield as the Scandinavian nations fought for hegemony. Author Jorgen Flood will discuss his book The Wars for Scandinavian Supremacy 1524-1815 about this period and how it became the foundation for the Scandinavia we know today.
11:00 - 12:00      Guided Tour of the Museum
12:00 - 1:00        Catered Lunch provided by Jeffrey Miller Catering
1:00 - 2:00          Author Talk: The Birth of Modern Scandinavia 1524-1814 by author Jorgen Flood
Cost: $25 (includes museum admission, guided tour and a delicious buffet luncheon by Jeffrey Miller Catering. Total value over $40).