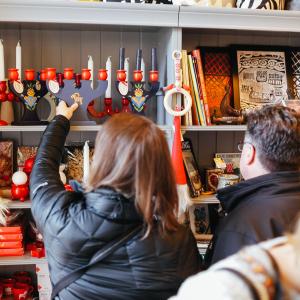 This year ASHM is bringing our traditional market outside! Bundle up and visit the Museum the first weekend of December for a unique shopping opportunity. Although 2020 has presented some logistical challenges for hosting this event, the centuries old European custom of outdoor markets helps provide a safer COVID shopping experience!
This year the market features an assortment of craft vendors featuring Scandinavian and/or hemslöjd (handmade) items. The Auxiliary Deli will be taking pre-orders of food that will be available for easy pick-up at the event (PDF order form listed below, please send in orders before 12/2).
We will have raffle items as well (PDF of items below). Raffle tickets will be sold at the door or you can purchase them in advance by calling 215-389-1776 (ticket prices: 2 for $5, 5 for $10 , and 12 for $20). You can put your tickets towards one or multiple raffle prizes.
During the market we will have live music and a ceremonial Lucia host will be attending the event to greet guests. The event is free to attend be sure to attend for a magical outdoor cultural shopping experience!
The Market vendors include:
ASHM Holiday Gift Shop

Auxiliary Deli (pre-orders for curbside pick-up available)

Mormor's Attic

Tamarack Farm Gotland Sheep wool merchandise

Books by Jorgen Flood
During the Outdoor Christmas Market, ASHM will follow all Pennsylvania and Philadelphia COVID-19 regulations and those in attendance are required to maintain physical distance and a wear a face covering, which may be removed if seated at a table while eating in the designated area.