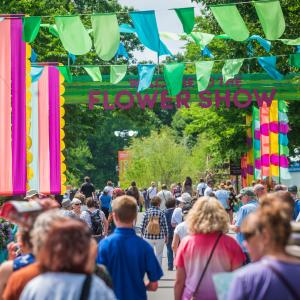 Through
ASHM is proud to once again be a part of the 2022 PHS Flower Show, "In Full Bloom". The Flower show will be taking place in FDR Park from June 11-19, 2022. As the world evolves, the inherent beauty in nature restores us. One's garden provides a place for healing and connection. This year's theme connotes good health, positive well-being, and a passion for life that culminates in a gorgeous and colorful spectacle. Guests will encounter outdoor gardens at the peak of seasonal perfection and beauty that will inspire everyone to plan for a better tomorrow.
During the PHS Flower Show, ASHM is only open to Flower Show ticket holders.
ASHM members can enjoy early admission on morning tickets by showing their membership card. 
ABOUT PENNSYLVANIA HORTICULTURAL SOCIETY
The Pennsylvania Horticultural Society (PHS), an internationally recognized nonprofit organization founded in 1827, plays an essential role in the vitality of the Philadelphia region by creating healthier living environments, increasing access to fresh food, growing economic opportunity, and building deeper social connections between people. PHS delivers this impact through comprehensive greening and engagement initiatives in more than 250 neighborhoods; an expansive network of public gardens and landscapes; year-round learning experiences; and the nation's signature gardening event, the Philadelphia Flower Show. PHS provides everyone with opportunities to garden for the greater good as a participant, member, donor, or volunteer. For information and to support this impactful work, please visit PHSonline.org.
ABOUT THE PHILADELPHIA FLOWER SHOW
The PHS Philadelphia Flower Show is the nation's largest and the world's longest-running horticultural event and features stunning displays by some of the world's premier floral and landscape designers.
Started in 1829 by the Pennsylvania Horticultural Society, the Show introduces diverse and sustainable plant varieties and garden and design concepts. In addition to acres of garden displays, the Flower Show hosts world-renowned competitions in horticulture and artistic floral arranging, gardening presentations and demonstrations, and special events. Visit: PHSonline.org/the-flower-show