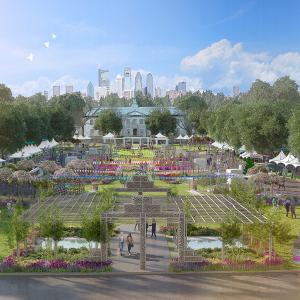 through
This year the Philadelphia Flower Show will be taking place in FDR Park. During the Flower Show, ASHM will only be open to Flower Show attendees. ASHM members will have early access to the Flower Show with their purchase of a morning ticket. Furthermore, ASHM will have a vendor booth featuring Scandinavian products in the main Flower Show vendor area.
You can also dine on the ASHM terrace at Christina's Cafe. Jeffrey A. Miller Catering will have a Swedish-themed café will be serving modern Swedish cuisine- featuring an assortment of smörgås (sandwiches) on house made JAM rye bread as well as Swedish cookies and pastries. They will also offer a few non-Swedish JAM favorite salads and snacks for the non-Swedes in the crowd. They will set-up linen-covered individual and group-sized tables on our beautiful terrace tent and offer waiter service for guests.
To learn more and purchase tickets head to: PHS Philadelphia Flower Show (phsonline.org)
About The Philadelphia Flower Show
The PHS Philadelphia Flower Show is the nation's largest and the world's longest running horticultural event and features stunning displays by some of the world's premier floral and landscape designers. The Show has been named "Best Event" by the International Festivals and Events Association and "Best of the Best" by the American Bus Association (for the fifth consecutive year) in 2020–2021.
Started in 1829 by the Pennsylvania Horticultural Society, the Show introduces diverse and sustainable plant varieties and garden and design concepts. In addition to acres of garden displays, the Flower Show hosts world-renowned competitions in horticulture and artistic floral arranging, gardening presentations and demonstrations, special events, and the citywide Bloom Philly pre-Show celebration. This annual gardening attraction will move outdoors for the first time, making this a once-in-a-lifetime experience that will incorporate the beautiful landscape of FDR Park. The 2021 Flower Show will showcase spectacular new presentations of all-new displays and activities for gardeners, plant enthusiasts and design aficionados.
The Show's theme, "HABITAT: Nature's Masterpiece" will explore the beauty of life through nature's kaleidoscopic lens. Visitors should be ready to see exceptional beauty, learn from a diverse line-up of designers and leading horticulturalists and enter a new gardener-centric experience that invites everyone at all skill levels to nurture a lifelong connection to plants and gardening.