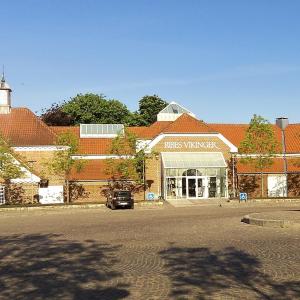 Take a break from your day, whether at home or work, to be immersed in a Scandinavian cultural experience. This virtual tour program is 45 minutes long and presented over Zoom.
This month we will be visiting the Ribe Viking Museum in Denmark. Ribe is the very first Scandinavian town established around AD 700. Ribe is a charming cathedral town situated on the west coast of Jutland close to the Wadden Sea, which is a Unesco World Heritage area. The museum opened in 1995 and is visited every year by tens of thousands from all over Europe and America.
Internationally recognized Viking Age researcher, Morten Søvsø, will lead us through parts of the exhibition at the museum focusing on seven themes:
The origin and development of Ribe, Scandinavia's first town

Towns and trade in Viking Age Denmark

Coins and Kingship

Skilled craftsmen producing glass beads, brass jewelry, antler combs and much more

The living and the dead

Christian mission to the North

Frisian and Frankish merchants in Ribe
Don't miss this exciting educational opportunity, register today! $5 for members and $10 for nonmembers, registration is required.