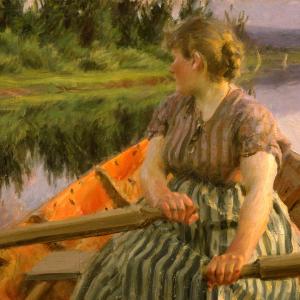 Take a break from your day, whether at home or work, to be immersed in a Scandinavian cultural experience. This interactive virtual tour is presented over Zoom and is 45 minutes long 12:15 – 1:00 pm with time for live Q&A . $5 for members and $10 for nonmembers, registration is required.
Museum Director Johan Cederlund will give a guided tour through the Zorn Museum, presenting the artist and some of his most iconic works.
One hundred years ago, Anders Zorn (1860-1920) was among Europe's most celebrated artists. Kings, presidents, financiers, and cultural figures lined up to have their portraits painted by the famous Swede, and his etchings commanded prices higher than those of almost any other artist. Born in the little parish of Mora, situated in the deep forests of Sweden, Zorn soon achieved great international success.
As a portrait painter, he was especially in demand in the United States, where he had a following that not only appreciated his refined, sophisticated style but was also willing to pay extremely high sums to be painted by him.  During his seven trips to America, Zorn created one hundred portraits; among the subjects were three presidents: Grover Cleveland, William Howard Taft, and Theodore Roosevelt. Zorn also became a close friend of the voracious art collector Isabella Stewart Gardner. In 1896, after eight years in Paris, Anders Zorn and his wife Emma (née Lamm) moved home to Sweden and Mora. Zorn devoted himself to subject matters from his native area, pictures that represent a rural culture that seems to be resistant to change.