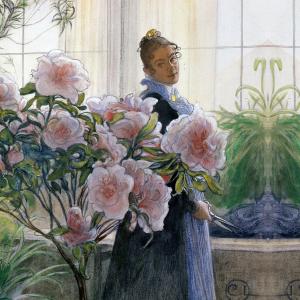 Join us for a fascinating Virtual Lunchtime Lecture with author Eva Sundström for an in-depth look at life and artwork of Karin Larsson. 
One would think Karin Bergöö Larsson has long been considered one of the 20th century's most influential creators of Swedish design, but as a matter of fact, she was not. It was the staged interiors of the Carl Larsson House in Sundborn, their home, illustrated by her famous husband that captured the world. Karin never appeared on the official art scene or on the art market. If she had she would probably have been more well known in her own right.
In her book and lecture, Eva Sundström investigates what Karin may have been inspired by and why we today consider her textile work to be pre-modernistic. She analyzes Karin's textile art and clothing from a textile and fashion research point of view considering and unfolding her personal choice of material, individual combination of varying techniques, and her personal way of adapting fashion of the time. 
This program will be held via Zoom. $5 for members and $10 for nonmembers. Registration will open in October.