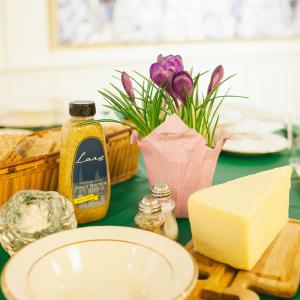 This year ASHM is offering a to-go Pea Soup dinner you can enjoy from your own home with an added virtual component to experience the camaraderie of an evening with new friends. The to-go dinner will be available for pick up from the Museum and participants will receive a link to join a communal Zoom dinner online. Swedish Ambassador, Karin Olofsdotter, will open the evening with a welcome address and then participants will be assigned to breakout rooms for a small group dining experience.
The dinner package includes one quart of Pea Soup, a wedge of Prästost XO Swedish cheese, a package of WASA Crispbread, spicy Swedish mustard, Swedish pancakes and lingonberry sauce. To-go dinner packages will be for two people and available for $35 for members and $40 for nonmembers. Additional quarts of soup may be purchased for $10. Pre-registration is required. Your to-go meal will be available for pick-up January 28th and 29th from 10am-4pm and 30th from 12-4pm. Please click the link below to register. 
*Please Note* 
To participate in the virtual dinner breakout rooms you need to have a registered Zoom account (it can be the free version) and the email you use to register for the Pea Soup Dinner needs to be the same email you use to login to your Zoom account. If you don't already have one, it's easy get a free registered Zoom account! Please go to Zoom.com and click the "SIGN UP, IT'S FREE" orange button on the right hand corner of the page. 
If you have any questions or require assistance, please don't hesitate to contact Lauren Burnham at 215-389-1776 or email lburnham@americanswedish.org.
SOLD OUT