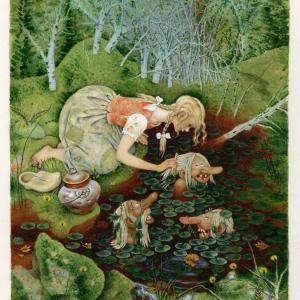 time
12:00 - 4:00 pm
3:00 p.m. Virtual Lecture
Join us for the opening of From Fairy Tale To Fantasy: The Art of Gustaf Tenggren. This is your chance to see original sketches and paintings of Snow White, Pinocchio, The Poky Little Puppy, and many more! Visitors will be asked to sign up for a gallery time-slot upon arrival and will be allowed entry every half hour to get an up close and personal look at these amazing illustrations.
Independent Curator and Tenggren biographer, Lars Emanuelsson, will be lecturing virtually at 3:00 p.m. You can watch the talk at the Museum or in your own home. A recording of the presentation will be available afterwards.
Please click below to register for the free Lars Emanuelsson lecture and receive the Zoom event link if you would like to watch from home.
*** Update ***
News about this weekend at ASHM!
We are excited to present our new exhibition: From Fairy Tale to Fantasy: The Art of Gustaf Tenggren. Our opening is on Sunday, and ASHM Curator, Trevor Brandt, will be giving tours of the exhibition. It is also the afternoon of the first Eagles home game. The planned road closures around the stadium should not affect your ability to get to the Museum. Please enter FDR Park at the 20th and Pattison Ave. entrance and tell the person at the gate that you are visiting the Swedish Museum. If you would like a status update on Sunday before you come, feel free to call the museum at 215-389-1776. Staff will be here to answer the phone beginning at 11:30.
Don't forget that the opening lecture is available through Zoom on Sunday at 3 pm. There are a few spots left to register, otherwise a link to the recording will be sent after the event.
In order to allow more people to see the exhibition, we are going to open it a day early on Saturday between 12 pm – 4 pm as well.