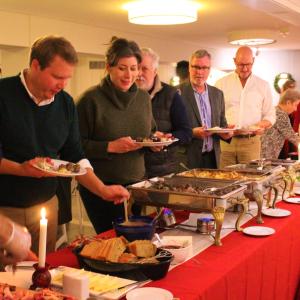 Start your Christmas celebrations by indulging in a Swedish holiday smörgåsbord prepared by Jeffrey A. Miller Catering. Your favorites will be a spread to remember, including the Christmas ham, herrings, meatballs, salads, and bread. A selection of ASHM Christmas Market vendors will be open from 5-7 pm, so you can shop while you enjoy a drink and some hors d'oeuvres before dinner. Book a table and invite family and friends to join you!
Doors open at 5 pm for shopping. Dinner will be served at 7 pm.
Please check back for pricing and to register.
Julbord FAQ's
-The dinner will be fully catered by Jeffrey A. Miller Catering. Adults over 21 will receive 2 tickets for alcoholic beverages as part of their dinner. Additional drinks can be purchased at the bar, cash or credit card.
-Shopping at the ASHM Holiday Market, including most vendors, will be available from 5-7 pm for Julbord ticket holders only. 
-The bar and hors d'oevres will begin at 6 pm. Dinner will be served at 7 pm.
-There will not be a Lucia performance on Friday evening for Julbord attendees. If you would like to return on Saturday or Sunday to see the performance, you may do so without paying an entrance fee.
-Holiday cocktail or business casual attire is encouraged.
If you have any other questions, please contact the Museum at 215-389-1776.