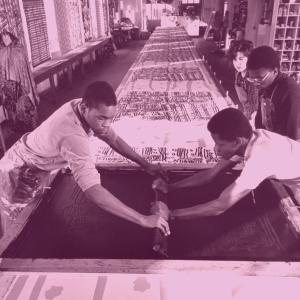 Learn how pattern, color, and form inspired free expression and radical progress of Marimekko at the Fabric Workshop with American Swedish Historical Museum Curator, Christopher Malone, and FWM Director of Education, Christina Roberts.
Extend your experience with an optional workshop directly following the lecture. Participants will have the opportunity to screenprint their own tote with a prepared pattern inspired by Marimekko and FWM designs, then customize their own screenprinted totebag through various surface design techniques guided by FWM master printers.
Organized in conjunction with the exhibition Radically Marimekko at ASHM.
$15 Public | $10 FWM + ASHM members
Registration required. Limited space is available.
*Please note that this workshop is held at the Fabric Workshop and Museum
1214 Arch Street, Philadelphia, PA 19107
215.561.8888
info@fabricworkshopandmuseum.org