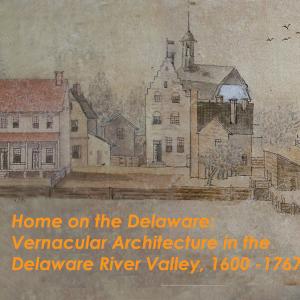 The New Sweden History Conference explores the history of the New Sweden Colony (1638-1655) and its legacy in colonial America. This year the conference will be held virtually via Zoom. Registrants will receive links to view each speaker's recorded presentation prior of a live panel discussion. Participants may submit any questions they have for the presenters in advance which will be answered during the live panel discussion webinar on Saturday Oct. 31st.
This year's theme explores the vernacular architecture of New Sweden, New Netherland, proprietary Pennsylvania, and neighboring ethnic and cultural groups on the Delaware River prior to 1767. While New Sweden's political influence in this area was short-lived, its early trading posts, mills, and farms were the foundations for cities familiar to us today such as Wilmington (Fort Christina), Chester, New Castle, and parts of west Philadelphia.
For more information on the speakers and their topics, please check out the event flyer PDF below.
Conference registration is $35. Upon registration you will receive a confirmation and link to the October 31st Zoom Webinar live panel discussion followed by a second email with the conference packet containing the links to view each of the lectures within 24 hours. If you have any questions regarding the conference or registration, please reach out to nshc@americanswedish.org or call 215-389-1776 x106.


PROGRAM PARTNERS
American Swedish Historical Museum
Delaware Swedish Colonial Society
Kalmar Nyckel Foundation
McNeil Center for Early American Studies
New Castle Historical Society
New Sweden Alliance
New Sweden Centre
Old Swedes Historic Site
Swedish Colonial Society
University of Delaware